TODAY: ...
Whittle and Stephenson release new
iPhone app for 'The Warbler Guide'
... features 3D images of every
warbler ... (Birding Is Fun)
OR: Voluntary sage-grouse
initiatives in Oregon appear
protected from congressional spending
block ... (Capital Press)
You're invited to join in ... the
Christmas Bird Count ... (BirdNote)
NOTE: ... next update to LBH will be
on Friday 12/19/14 6:30 am ...
more headlines on Page 2 ...
eBIRD RARITY ALERTS BY STATE: ...
Connecticut ...
Delaware ...
Georgia ...
Maryland ...
Massachusettes ...
New Hampshire ...
New Jersey ...
New York ...
North Carolina ...
Ohio ...
Pennsylvania ...
Rhode Island ...
South Carolina ...
Virginia ...
Vermont ...
MONDAY: ...
FL: Ultralight-led Whooping Crane
migration finished ... (CBS Miami)
IN: It's another good year for
seeing rare Snowy Owls in Indiana ...
(Indiana Public Media)
CO: Colorado preparing lawsuit
challenging fed's decision to protect
Gunnison Sage Grouse ... (AP/KKCO)
CO: Birding brings a new look at
Rocky Mountain National Park ...
(Denver Post )
PERU - Greenpeace publicity stunt
damages ancient monument in Peru ...
(RedOrbit)
New genetics study reveals how
Emperor and Adelie Penguins survive
the harsh Antarctic ...
(Science World Report)
UK: Amazing starling murmuration at
nature reserve ... video and picture
... (Cambridge News)
more headlines on Page 2 ...
REGIONAL BIRDING SITES:
CT: Audubon Center in Greenwich
CT: Hammonasset Beach SP
CT: Lighthouse Point Park
CT: Milford Point
CT: White Memorial CC
DE: Bombay Hook NWR
DE: Delaware Bay
DE: Prime Hook NWR
DE: White Clay Creek SP
GA: Wings Over Georgia
MA: Allens Pond Wildlife Sanctuary
MA: Mount Auburn Cemetery
MA: Parker River NWR
MA: Pleasant Valley WS
MA: Plum Island
MD: Assateague Island NS
MD: Chesapeake and Ohio Canal NHP
MD: Conowingo Dam
MD: Ocean City
NC: Atlantic Ocean
NC: Mattamuskeet NWR
NC: Outer Banks
NC: Pea Island NWR
NH: Mount Washington
NJ: Brigantine Div./Forsythe NWR
NJ: Cape May
NY: Braddock Bay
NY: Derby Hill Bird Observatory
NY: Jamaica Bay NWR
NY: Montezuma NWR
NY: Niagara Falls
OH: Adams Lake SP
OH: Crane Creek
OH: Green Lawn Cem. and Arb.
OH: Headlands Beach SP
OH: Killdeer Plains
OH: Magee Marsh
OH: Ottawa NWR
PA: Conejohela Flats
PA: Hawk Mountain
PA: Middle Creek WMA
PA: Presque Isle State Park
PA: Tinicum (John Heinz NWR)
RI: Block Island NWR
RI: Sachuest Point NWR
SC: Cape Romain NWR
SC: Carolina Sandhills NWR
SC: Huntington Beach SP
VA: Chesapeake Bay Brdg & Tunnel
VA: Chincoteague NWR
VA: Great Falls Park
VA: Kiptopeke SP
VA: Shenandoah National Park
VT: Dead Creek WMA
WV: Cranesville Swamp Preserve
WV: Green Bottom WMA
WV: Monongahela National Forest
REGIONAL WEB SITES:
Baltimore Bird Club
birding Charleston, SC
Cape May Bird Observatory
Cape May RBA
Friends of Blackwater NWR
Kate St.John's blog
Lancaster Crow Coalition
Mt. Zion Grasslands
New England hummers
South Carolina birding hotspots map
Tom's Plum Island page
REGIONAL: ...
ABA BIRD REPORTS ...
NJ: Pink-footed Goose/12-16 ...
MA: Townsend's Warbler/12-16 ...
OH: Gr. White-fronted Goose/12-16 ...
NY: Gr. White-fronted Goose/12-16 ...
RI: Eurasian Wigeon/12-16 ...
NY: Barnacle Goose/12-16 ...
VA: Virginia to play critical role
in recovery of Red Knot ...
(William and Mary News)
OH: Countless crows, droppings
rankle Springfield residents ...
(LancasterOnline)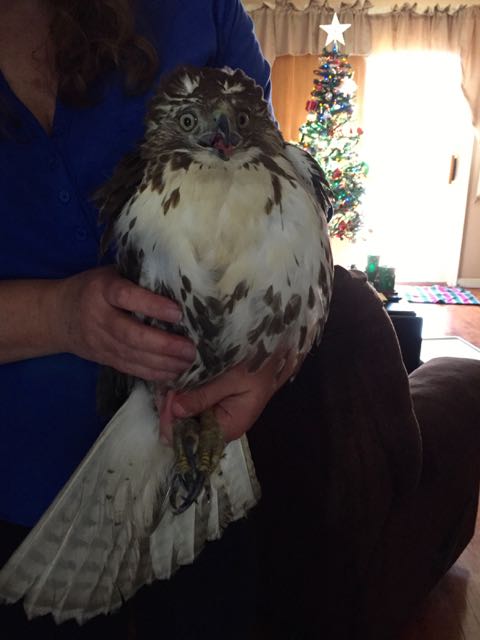 VA: VIRGINIA BEACH - Red-tailed
Hawk makes crash landing in Alanton
garage ... (Virginian-Pilot)
RECENTLY: ...
Congress throws Sage Grouse
protections under the bus ... to
secure budget compromise ...
(The Oregonian)
MN: NFL Vikings, 3M to test
'invisible' bird-safe film for new
stadium this spring ... to avert
lawsuits and legislative action ...
(Minneapolis Star Tribune)
DC: Lights out effort reduces
deadly bird-building collisions in DC
... (Voice of America)
Feds officially classify Red Knot a
threatened species ... (AP/ABC News)
FL: Burrowing Owl 'selfie' earns
national wildlife photo contest title
... (Cape Coral Daily Breeze)
AUSTRALIA - Six extraordinary
Australian birds you need to see ...
(The Conversation AU )
CANADA - Mega-rarity excites
birders in New Brunswick ... not seen
there in more than 100 years ...
(CBC News)
Documentary on ducks ... (PBS Nature)
TN: Red-tailed Hawk attacks, kills
family's dog ... (USA Today)
New tool for measuring birds from
photographs ... (littleBirdieHome.com)
more headlines on Page 2 ...
EMAIL: LBH@littlebirdiehome.com