TODAY: ...
MN: Golden-winged Warbler work in
Minnesota refuge seeks to end long
decline ... (Pioneer Press)
WY: Study finds Sage Grouse
conservation helps mule deer
migration routes ...
(University of Wyoming News)
CA: Spending soars to $30 mil+ on
relocation of Bay Bridge's birds ...
(SFGate)
ID: Federal judge rules BLM violated
grazing laws in SW Idaho ...
(Spokesman Review)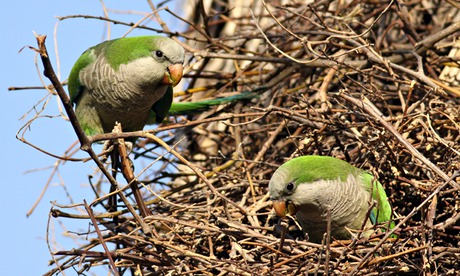 UK: Eradication efforts bring UK's
Monk Parakeet numbers down to last 50
... (The Guardian)
UK: Britain's 3rd Masked Shrike ...
(Birding Frontiers)
SOUTH AFRICA - Barn Owls to take
front line in Johannesburg's war on
baby-eating rats ... (Times LIVE)
NOTE: ... next update to LBH will be
on Friday 10/3/14 ...
more headlines on Page 2 ...
eBIRD RARITY ALERTS BY STATE: ...
Connecticut ...
Delaware ...
Georgia ...
Maryland ...
Massachusettes ...
New Hampshire ...
New Jersey ...
New York ...
North Carolina ...
Ohio ...
Pennsylvania ...
Rhode Island ...
South Carolina ...
Virginia ...
Vermont ...
MONDAY: ...
MN: Hundreds gather to protest
Vikings stadium glass ... (KARE)
DE: American Birding Association
aims to broaden appeal with move to
Delaware ... (WDDE)
Weather radar captures flocks of
birds taking off ... (Scientific American)
WI: Captive Whooping Cranes
released into the wild ... (RedOrbit)
When to take down hummingbird
feeders ... and rare hummingbirds
that may show up in fall ...
(Stokes Birding Blog)
UK: Reward offered for missing
'very rare birds' ... (BBC News)
more headlines on Page 2 ...
REGIONAL BIRDING SITES:
CT: Audubon Center in Greenwich
CT: Hammonasset Beach SP
CT: Lighthouse Point Park
CT: Milford Point
CT: White Memorial CC
DE: Bombay Hook NWR
DE: Delaware Bay
DE: Prime Hook NWR
DE: White Clay Creek SP
GA: Wings Over Georgia
MA: Allens Pond Wildlife Sanctuary
MA: Mount Auburn Cemetery
MA: Parker River NWR
MA: Pleasant Valley WS
MA: Plum Island
MD: Assateague Island NS
MD: Chesapeake and Ohio Canal NHP
MD: Conowingo Dam
MD: Ocean City
NC: Atlantic Ocean
NC: Mattamuskeet NWR
NC: Outer Banks
NC: Pea Island NWR
NH: Mount Washington
NJ: Brigantine Div./Forsythe NWR
NJ: Cape May
NY: Braddock Bay
NY: Derby Hill Bird Observatory
NY: Jamaica Bay NWR
NY: Montezuma NWR
NY: Niagara Falls
OH: Adams Lake SP
OH: Crane Creek
OH: Green Lawn Cem. and Arb.
OH: Headlands Beach SP
OH: Killdeer Plains
OH: Magee Marsh
OH: Ottawa NWR
PA: Conejohela Flats
PA: Hawk Mountain
PA: Middle Creek WMA
PA: Presque Isle State Park
PA: Tinicum (John Heinz NWR)
RI: Block Island NWR
RI: Sachuest Point NWR
SC: Cape Romain NWR
SC: Carolina Sandhills NWR
SC: Huntington Beach SP
VA: Chesapeake Bay Brdg & Tunnel
VA: Chincoteague NWR
VA: Great Falls Park
VA: Kiptopeke SP
VA: Shenandoah National Park
VT: Dead Creek WMA
WV: Cranesville Swamp Preserve
WV: Green Bottom WMA
WV: Monongahela National Forest
REGIONAL WEB SITES:
Baltimore Bird Club
birding Charleston, SC
Cape May Bird Observatory
Cape May RBA
Friends of Blackwater NWR
Kate St.John's blog
Lancaster Crow Coalition
Mt. Zion Grasslands
New England hummers
South Carolina birding hotspots map
Tom's Plum Island page
REGIONAL: ...
ABA BIRD REPORTS ...
WV: Kirtland's Warbler/09-30 ...
NJ: Eared Grebe/09-30 ...
CT: UConn scientists discover key
to Monk Parakeet nest building
behavior ... (FOX CT)
PA: Expert Weidensaul says keep the
welcome mat out for late migrating
hummingbirds ... (CBS Philly)
NJ: Bird Festival returns to Cape
May, Oct. 24-26 ...
(Cape May County Herald)
MD: American Avocet makes its first
ever visit to Carroll County ...
(Carroll County Times)
OH: 12-year reign by Peregrine
Falcon on Terminal Tower ends ... SW
defeated by female rival from I-90
bridge ... (Plain Dealer)
RECENTLY: ...
UK: Young kite is passed a vole by
its mother in amazing mid-air
acrobatic maneuvers ... (Daily Mail)
NJ: Rare Whiskered Tern bringing
more birders to Cape May County ...
(Press Of Atlantic City)
MA: It's kiteboarders vs. Piping
Plovers on Monomoy Beach ...
(Boston Globe)
VIDEOLINK ... Cute little video of
a hummingbird enjoying his bath ...
(Birds & Blooms)
Top 25 Wild Bird Photographs of the
Week #72 ... (NatGeo News Watch)
New tool for measuring birds from
photographs ... (littleBirdieHome.com)
more headlines on Page 2 ...
EMAIL: LBH@littlebirdiehome.com